Protection from the Sun's Rays When Washing the Car
Our shade sails can provide protection for customers to your car wash. Many people don't simply wash their car and then leave. They also want to take time to wax, polish, or dry the water droplets from the car so they don't leave residue. With one of our shade features in place, people will be able to take the time they need to do what they need to do without having the sun's light and heat bearing down on them.
Provide Shade From the Sun at the Playground
When children are playing at the playground, they probably aren't worried about the damaging effects of the sun's UV rays on their skin. However, with the help of our shade sails, children can be protected from the heat and the dangerous rays. Many different styles and colors are available. They also help to prevent slides, swings, and jungle gyms from getting too hot to the touch.
Umbrellas
We can provide you with cool shade for your porch, patio, or deck. Our umbrellas are available with wood and aluminum poles, and we offer both patio and market styles.
Patio: This is any type of shading device that is used specifically for outdoor leisure use. While they are typically manufactured for use at a residential location, they can be used for smaller patios. These are available with fabric or canvas.
Market: These are more of an octagon shape and are used to cover a bigger area. These are often seen being used in commercial locations on large patios to shade customers who are eating outside.
Standing Seam Metal Awnings
These metal awnings are low maintenance, easy to keep clean, and have a clean, modern design. They are incredibly durable, and they feature a standard metal frame which can be customized with a special shape or trim of your choice.
Below are some of the advantages of this style:
Affordable
Pre-manufactured or custom-designed
Structurally sound and durable frame
Blocks the sun from customers
Reduces cooling costs and energy use
Beautiful and modern architectural design
We offer this style from the following manufacturers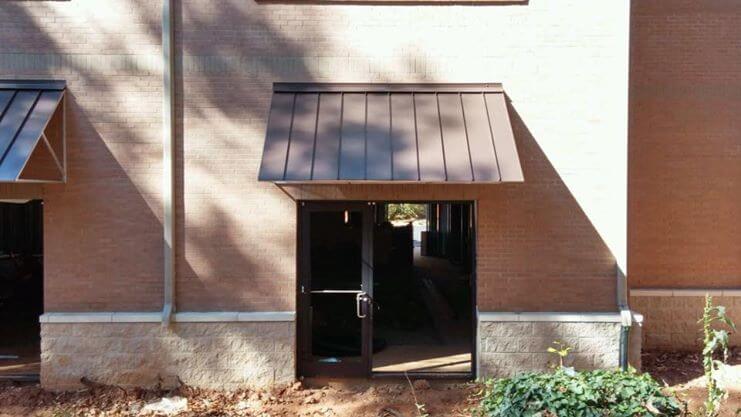 Caring for Your Awning
One of the many reasons why commercial location owners choose metal materials over canvas or fabric is because it doesn't require much maintenance to keep it looking beautiful and professional. The material also has a much longer life-span since it is weather-resistant and built to be tough. As a commercial property owner, it's important that you know how to properly take care and maintain your new overhang.
Make Sure They're Secure
Heavy rains, ice deposits, snow, and strong wind gusts can produce normal wear and tear on your metal awning. You should check your metal awning at least two times a year to make sure that they are still securely fastened to your building's walls. It's also a good idea to check the mortar around the area where your metal awning is fastened to see if there's any looseness. It's dangerous to have a loose metal awning because it can fall and break or injure someone or their property.
Watch Out For Bends
When taking care of your metal awning, you should often check for dents or bends, usually after strong winds or storms. Bending and dents in your metal awning can take away from its beauty and create an unsightly effect. Also, areas that are dent can start to rust due to issues with the paint area's sealant caused from the bending of the metal material.
Clean Regularly
Even though metal awnings don't require much maintenance, you still need to clean them off every once in awhile. Never use pressure washing on your metal awning because it will dent it. Instead, use regular water and soap to cleanse the surface of your awning and free it from any built-up dirt, dust, or outdoor debris.