Add Graphics To Your Business' Awning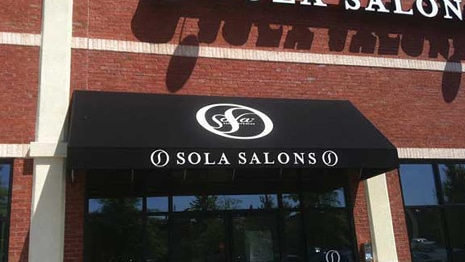 When customers are able to clearly see your name, logo, and phone number from the awning, it sets you apart from other businesses in your area. We have the ability to add specialized, custom images to your fabric overhang for an affordable price to help identify who you are. We use a multicolor letter and logo application process to fuse opaque 3M films to your shade feature. The results are a stylish, professional finish.
Why Add Graphics To Your Awning
Most storefronts have window graphics to help attract customers promote their business. Awning graphics serve the same purpose, but are can also be more noticeable than window graphics. Pulling customers off the street and into your business can be simple with a properly design awning graphic. We work with customers in a variety of markets that use graphics on their awnings to make their business stand apart from surrounding businesses. Our experts can help you get started on this process. Get in touch with our team by calling 770-232-3003 or by clicking the button below to fill out our online form.
Our coffee shop's new metal awning will surely catch our customers' eyes!
Our business's new walkway covers make our whole location look like new again.
Our home now has beautiful bahama shutters thanks to Awnings Above!